When the horse carries itself correctly and athletically in the canter, its stifle, or knee must be bent. Watch the difference between these two pictures:
Here you may see that Ares is straightening his inside hind leg, and lands with a stiff knee/stifle. If you don't remember where the knee is, look it up, it is important.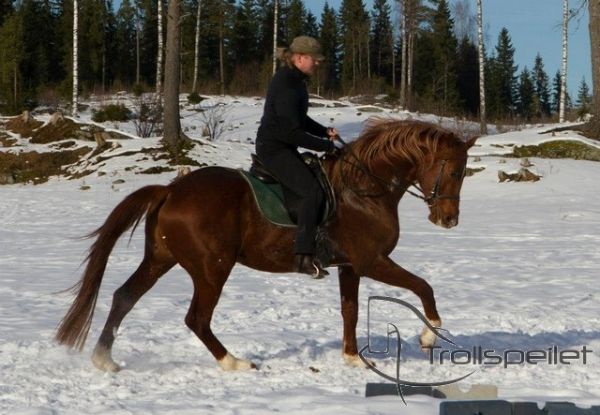 Here the knee is bent at the landing, and Ares carries himself more powerfully, and cushions the landing better as well.
Many riders know that it is important to get the horse to step under with the hind legs and carry the rider with the hindquarters. But that does not mean that a stiff leg will carry, even though it might step further under the body than a bent one.
The bent knee tightens the topline more, and cushions the landing better. A straight knee will be more prone to strain injury. Try landing with stiff knees yourself. Not very comfortable...
To ask the horse to bend the knees, we have to train to sit right, and to influence the horse with our seat and legs at the same time. It is a skill. So, get out and train. And step into the inside stirrup.

Hanne