We often get questions about why we don't start collection earlier, and why we so stubbornly try to follow the German training scale. Many riders argue that it is much better to start with collection, since that is what we wish to end up with anyway, and why not start right away?
Have a look at this collection:
We can see that there is weight transferred to the hind legs, because the hind fetlocks are more loaded than the front ones. But there is something wrong. The horse is not straight.
Have a look at Hugo's pelvis. Can you see that he is tilting his pelvis to the outside?The whole structure of his hindquarters is not stabilized, and you cannot transfer power through a twisted construction like that. A horse that is not straight is unable to procede powerfully forwards, and gets problems in its transitions.
There is one more problem in this picture. The withers are too low. The horse is not over the back. This is another reason why the transitions and the extensions won't work. Collection training is OK, of course, for many reasons, but here we must make sure that all the other points in the scale is being included in the training, or else we are missing something.
This picture shows a better collection, where the pelvis is more stabilized, and the back is able to carry more. Thus the withers are lifted.
Let us look at the same phenomenon in the most extreme version of collection training, levade training.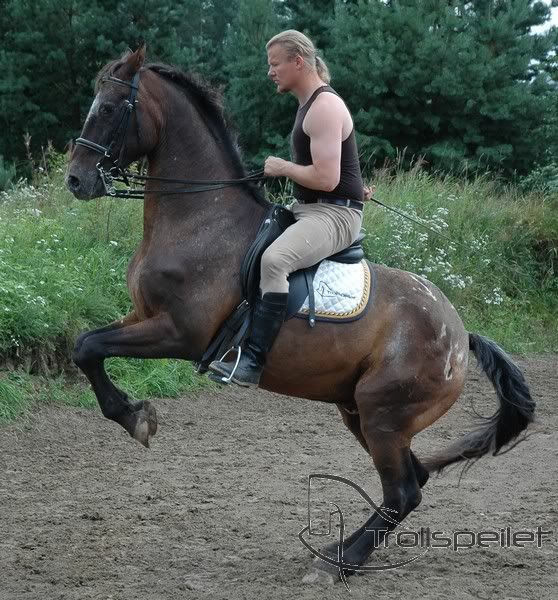 Here Hugo is obviously using the muscles in his hindquarters to lift, but he is not entirely over the back. He is tense and lowered in his withers. He is also not straight, this is easy to spot when looking at his hind legs.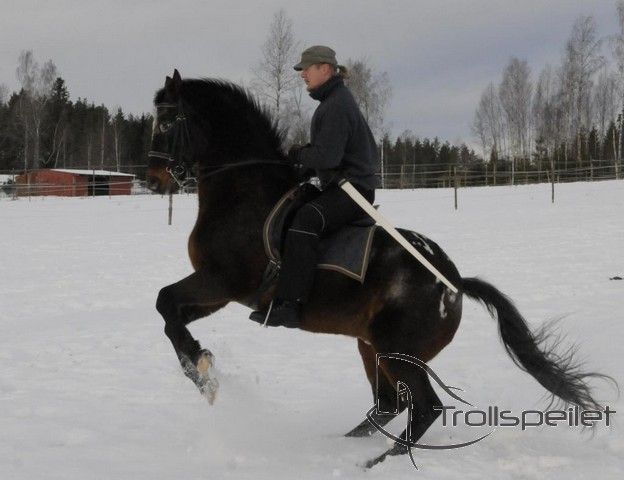 Here, the horse is over the back and straight. That means that all the power goes through the horse's body and lifts the withers up and out of the shoulders.
These differences are there in all other gaits and movements as well. Do not try to fool yourself, but make sure that you always go back to check the lower rungs on the ladder.
Rythm, looseness, contact, impulsion, straightness. They are useful building blocks, not tedious and boring basic stuff. See if you can put them into the stuff you are already doing.