Everyone knows that the point of riding is to help the horse carry the rider from behind. To unweight the forehand and engage the hindquarters and make them carry. This is not so easy as it sounds. If it was, we all would have done it.
Guro Larsson has been so generous as to let us use some pictures of her and her arab horse Fhayun and how they have managed to change. As many of you know, the arabic horse has special troubles with stuffing its pelvis under, often collapsing in the lumbar back, and "strutting its bum into the air". For instance like this: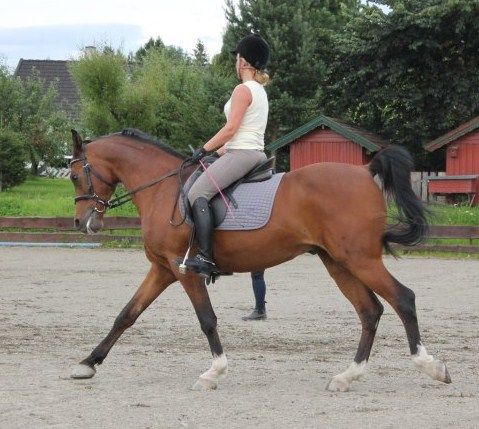 Or this:
To remedy this, one can follow different paths, more or less effective. We always choose to teach the rider to use her seat and leg aids to encourage the horse via its natural bodily reflexes and responses.
At the picture above, you can see that Guro is sitting a little sway backed and with no contact with her leg. This is partly because a horse that is moving like this will push her aids away and her seat to the back of the saddle, and partly because she has not yet started to address the problem via her seat.
Also, a hollow back blocks the horse's back movement and hinders the hindquarters. The first remedy we often use, is to ask the rider to sit more lightly on the horse's back. For instance like this: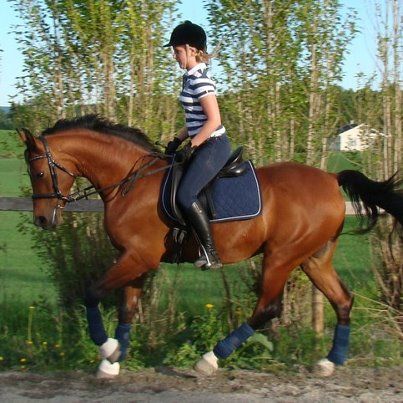 Here we can see that the horse is tucking its pelvis under more, but he is still stretching his stifle, (also called knee in other languages) too much. The hind leg becomes straight. This is often because the horse does not know how to move with a bent hind leg. Of course he bends the leg to lift it, but not when it takes support on the ground. And in order to carry some of the weight from the forehand, he must manage to do this.
So we asked Guro to sit with her pelvis more tucked under, and to bend her knees and open her hips joints. Also to sit a little lighter on her seat bones and transfer some of the weight to her stirrups:
Then this happened. Fhayun got so frustrated because of the difficulty of bending his stifles, that he lifted his whole forehand into the air. Well, he got praise, because he did what we wanted, but a little too much. He had to find out how to bend in his stifle and to go forwards in a flowing motion at the same time.
He struggled, lost his rythm, changed lead with the hind legs, fell apart, but Guro just patiently kept her aids on and waited until he managed to follow her new aids.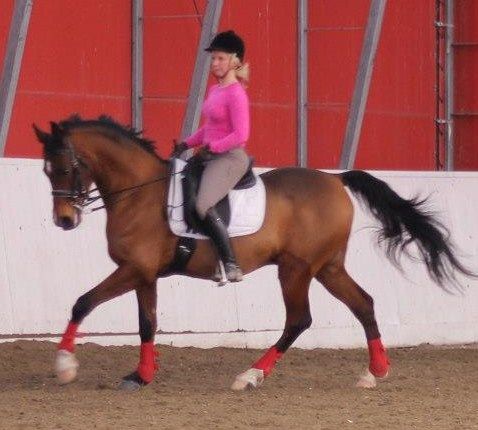 And after a while he managed. He is still a little lower in the lumbar back than he ideally should, but he is getting there, and the rest is just training. It is easier and easier for Guro to keep her aids on as well, because she is getting used to it, and as Fhayun is getting his movement right, he is not pushing her aids away. After a while, Guro may just keep her aids in contact, just to ensure that his carrying capacity is still on, and perhaps sometimes ask for a little collection. Now she is ready for it.
Photos: Trude Langvad