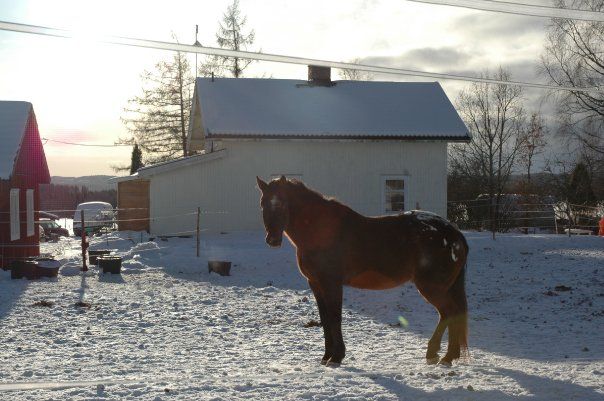 The Hugo has retired. He is nineteen years old, and he has just let Ares take over the leadership of his little herd. I think he loves the freedom from responsibility. He is back to his old, naughty self, tipping the water bucket every time he is finished drinking. Sleeping whenever he wants to. Giving a little darn what happens, there is younger people taking care of that now.
Hugo was not always the leader. Back in the days where we only had Viplan and Hugo, Viplan was the older one, and the boss. He always knew best. At least he thought so. Hugo was the young brat, always full of pranks and the least responsible horse in the world. So when we moved to Eriksbråten, added some mares to the herd, and Hugo chased Viplan the heck out of his herd, and took over, we were doubtful. How could this egosentrical little jerk of a horse become a good leader?
A good example of his behaviour in the herd was when it was his turn to keep guard when all the others were sleeping. Viplan woke him up, chased him to get up and take his turn. Hugo yawned, stretched, took his turn for two minutes, before he got bored and woke one on the others, and got down again.
We were wrong. Hugo became the best herd leader we have seen. He took care of the foals, taught them not to get tangled in the fences, protected them from other horses, he even helped us many times when one of "his" horses did not behave. He even volunteered.
Once we had trouble getting hold of a yearling filly when we wanted to move the youngsters and include them into Hugo's herd. She was alone in her old paddock, and desperate because we had moved all her friends. Hugo said to us, from his herd: "Let me help you, I can fix this!" So we let him. And he got into her paddock, became friends with her, told her to relax and listen to us, and we got them both together into the big paddock.
Pelle leading Hugo into his paddock after training. Hugo and Pelle never need a lead rope. Hugo thinks it degrading. But it is OK when on a show, he understands.
Other times, he helps us getting hold of horses in his herd. Amendoa was very difficult to catch in the beginning, half wild as she was. Many a time Hugo went between us, and stopped her, letting us catch her, then he looked at us as if saying: "There you go", and went along with his business again.
He has been to numerous trainings and shows. Always doing his best, even trough he is but a little horse with very limited talents, and very mixed blood. The mixed blood made it more difficult for him to balance, and often his inner thoroughbred wanted to run away from all the dangerous stuff Pelle led him into. But he tried as best as he could. If Pelle held him tightly under the aids and helped him balance.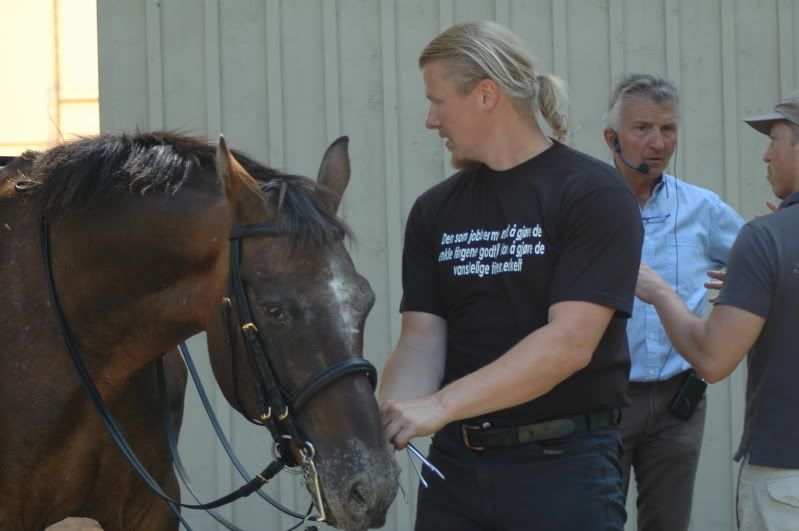 Both Hugo and Pelle exhausted after a clinic with Arthur Kottas-Heldenberg.
Hugo and Pelle training piaffe with David Oliveira.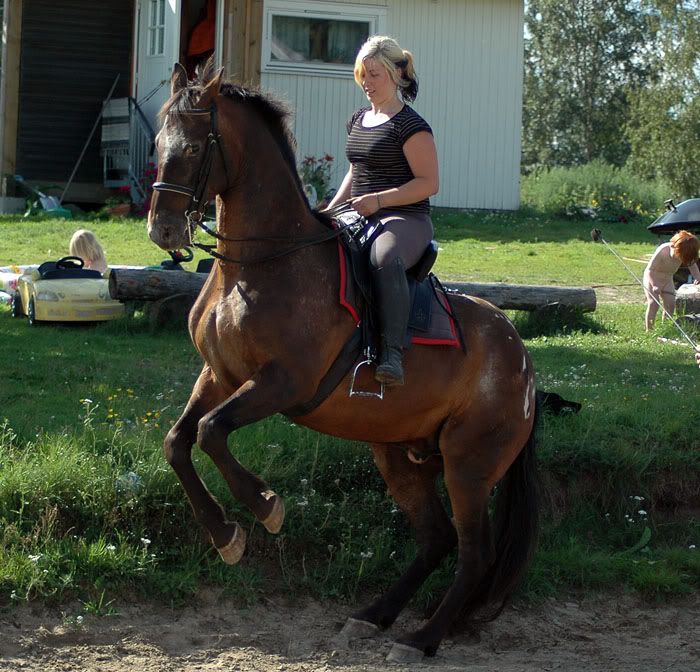 He has also been a school horse, showing the riders all their faults, because he is taking all opportunities he sees to evade correct work.
At the medieval tournament at Chateau Moncley in France, Hugo hardly slept at all. He felt that he had to look after his herd, and stayed awake all day and all night. After he got home, he slept for hours, in environments he was sure the herd could manage without his supervision for a short while.
But now, there is finally a horse that Hugo can trust will be a better and stronger leader than he is.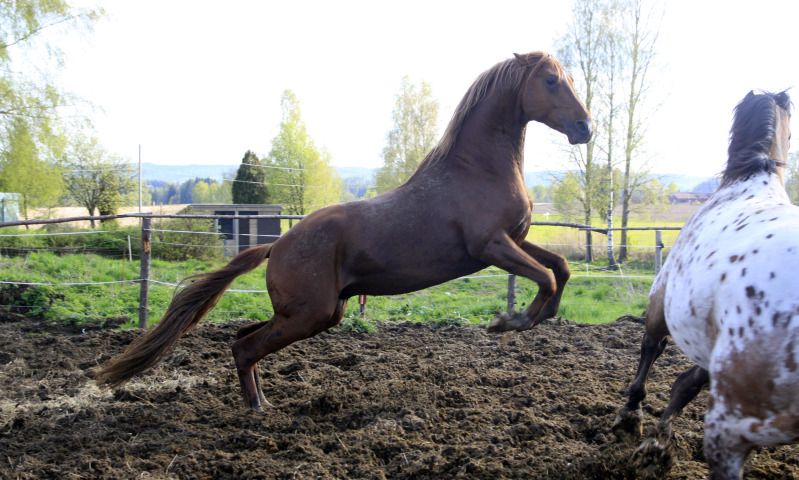 Ares has been a young, naive, jerk. He has bullied Misty, jumping onto him and creating a homophobic gelding out of his former playmate. Hugo has had to go between them and teach Ares manners. Ares had at least partly learned the lesson. He has grown up. So Hugo has found the time is ready for becoming herd leader emeritus. And becoming his naughty, irresponsible self again. And he upends their water bucket every day. To his great delight.
Ares looks at him. A little condescending. He has taken over the burden.
Photos: Nina Kilbane and Trollspeilet.