---

This is a picture of Pelle and Ivar riding into the arena at the tournament in Trondheim. Many people have asked why they look so serious. I was a little astonished by the thought, until it dawned on me that many people still believe that jousting is a make-believe thing. A sort of acting or theatrical show, where grown men like to make believe that they are knights for a short time.

What is it with our society that makes everything unreal? In such a way that we need reality shows on TV to find something that resembles real life? Jousting as a sport is so real and so difficult and - yes - dangerous that many people have a hard time understanding the phenomenon.

These guys in the picture are perhaps serious because they are about to enter the arena in a competition that they take seriously, and that they need to concentrate to manage to do well, and avoid getting too hurt? Because they usually get bruises, that is a part of the game, and part of the fun, as far as I understand them when they laugh and joke about it afterwards. And sometimes they get hurt for real. That is why they wear armour. The shining armour is there to protect them, it is not a display. Armours were used in war for hundreds of years. They are proven to protect against injuries.

Please take a look at this clip, showing a match between Petter and Pelle at the tournament of St. Wendel a couple of weeks ago. http://www.youtube.com/watch?v=aX5xwps5 ... e=youtu.be

These guys actually ride against each other, aiming to hit each other with solid pine lances, that are at the least 3,5 cms in diameter (they are tapered), and with a three pointed steel coronel at the tip. The goal is to break the solid piece of wood against the other guy. Anyone who can imagine what kind of strength, skill and braveness that is required for this?

First, you need to be able to ride your horse straight and steady down the tilt. Not so easy as it seems. Many horses are a little afraid of the other horse that comes charging at them, and they keep a distance, making it difficult for the other jouster to hit. Amoung the jousters it is considered very knightly behaviour to present a good target, actually more respectable than hitting and scoring points yourself. So, you need to train your horse well, and to ride him well.

Secondly, you need to be able to hit the target with your lance. The lance is actually a small, long pine tree, without any artificial weaknesses or preparation. It is heavy, unwieldy, and you are supposed to poke it directly into the other guy's shield so hard that it breaks or pushes your opponent out of the saddle.

Thirdly, you need to be strong and tough enough to stay seated in the saddle when you hit your opponent and he hits you. Without jolting the horse in the back or in his mouth.

And then you go on to the next run, wishing even more to present a good target and dance this dramatic dance with your opponent.

Are you not entertained?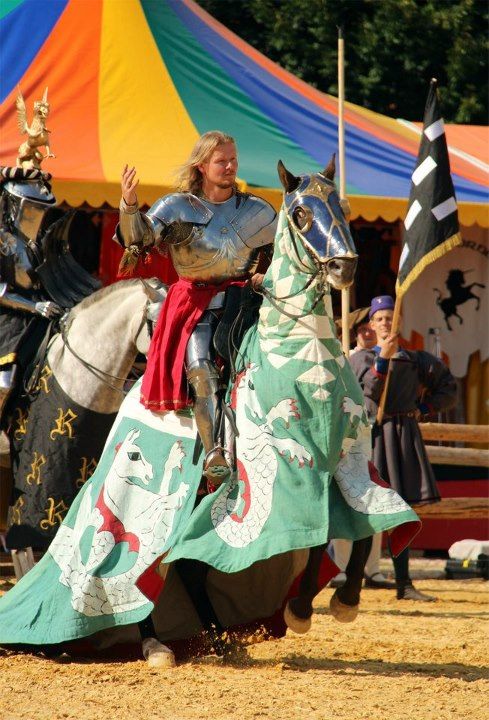 Photo by Rozemarijn Keuning

Of course, part of the job when doing a show, is to put on a show. The audience is there to cheer, and to be entertained. And it seems to me that many jousters are rather full of adrenaline, eager to go into battle, and letting out a little steam by showing and entertaining the audience is a welcome part of the game. But let us not degrade the sport and the performance of the athletes by making the audience think it is all an act.

Regrettably, many medieval shows have a great deal of theater in them. Many are even set up in advance, the winner is chosen by the organizers before the start, and the show is all about making the audience cheer for their allocated knights. My strong feeling is that this is a dead end. People want to see reality. They want to se real competition. They want to cheer for the competitior they like, not the one they have been assigned. The make-believe one.

The jousters I have met, are real athletes, and it grieves me to see them treated and presented as actors. They are not. Regardless of solid- or balsa lances or rules of the competition. They represent an ancient and noble art of combat and a glorious sport, and we have the chance of reviving that sport.

Should we not start treating it as one?

Hanne